I find I buy beauty products on quite a regular basis. so, I thought I would keep you updated on my beauty picks. This way you get to see what I'm trying out, what colours look like via swatches and perhaps what I may be reviewing later on. (Sneak peeks!) Not all the products I show with be reviewed on this blog, but if there is something in particular that you would like to see more of, leave me a comment below.
On to the beauty buys.
Real Techniques - Miracle Complexion Sponge.
I've seen a few bloggers review this little guy, all of the reviews said how comparable it was to the Beauty Blender, and at a fraction of the price. I was sold from that mere sentence, I go through a few of the beauty blenders a year, if I can find another just like it at a snip of the original then I will be a happy bunny!
I've very excited to try this for myself; but trying not to expect anything from it, so that I won't get disappointed if it fails to do what I need it to. (Making people dazzlingly beautiful)
Fingers crossed, it will become a new favourite!
The Body Shop - Colour Crush Lipstick.
(I bought the shade - 101
)
I adore red lipstick. Red suits any one, any skin tone, any age, any lip shape! It's the one colour that I cannot live without. The majority of my lipsticks are reds, with other colours scattered amidst them randomly.
I saw this while I was in The Body Shop and I could never forgive myself if I had of walked out without it. (A strange fact about me - If I see a red lipstick, I have to buy it.)
This is what I like to call 'a day time' red, a lighter red with a cooler undertone. A colour that would look amazing in summer with some matte black sunnies. Great buy!
B. Rich Intense Colour Lipstick.
(I bought the shade - 194 Marilyn)
This brand as far as I am aware are exclusive to Superdrug. They are a company with beautiful ethics, all the B. range is cruelty free and suitable for vegetarians and vegans. It is also very fairly priced.
Again a red lipstick, I know - I know, it's an addiction! However, this one I planned to buy as it was compared to a high end brand. I love seeing if they are good dupes, I find it rather fun.
So far the packaging has won me over, it's so cute. To open the lipstick you press the bottom and it unlocks with a click and extended down so you can pull it out like a regular lipstick.
No more ruined lipsticks in my handbag because the lid popped off. Genius design!
Barry M - Natural Glow, Shadow & Blush Palette.
I had originally gone in to pick up some of the new 'Silk' Nail Paint collection that had been released, I came home with a few more items than a nail polish; this being one of them.
There was three different palettes, as I love neutrals I went for the natural glow. I've never tried Barry M cosmetic's before, I have only ever tried the nail paints. (Another fact about me - Barry M are my favourite polishes) I was interested to see what the cosmetics were like. They were all beautiful when swatched, the last three eyeshadow shades are on trend this spring (Metallic Eyeshadows) thumbs up Barry M, it has a nice amount of matte and shimmer shadows, which I really liked and the blush is amazing. The picture really does it no justice at all. In person wow! It was really inexpensive too.
Revlon - Colourburst, Matte Balm.
(I bought the shade - 205 Elusive Insaisissable)
I have been seeing adverts for these in every magazine, reviewed by many, many bbloggers and have been seeing it pop up in my twitter feed for days. I cracked and ran to buy one too. I absolutely love the colour, I'm not really sure if I can restrain myself from buying all of the shades.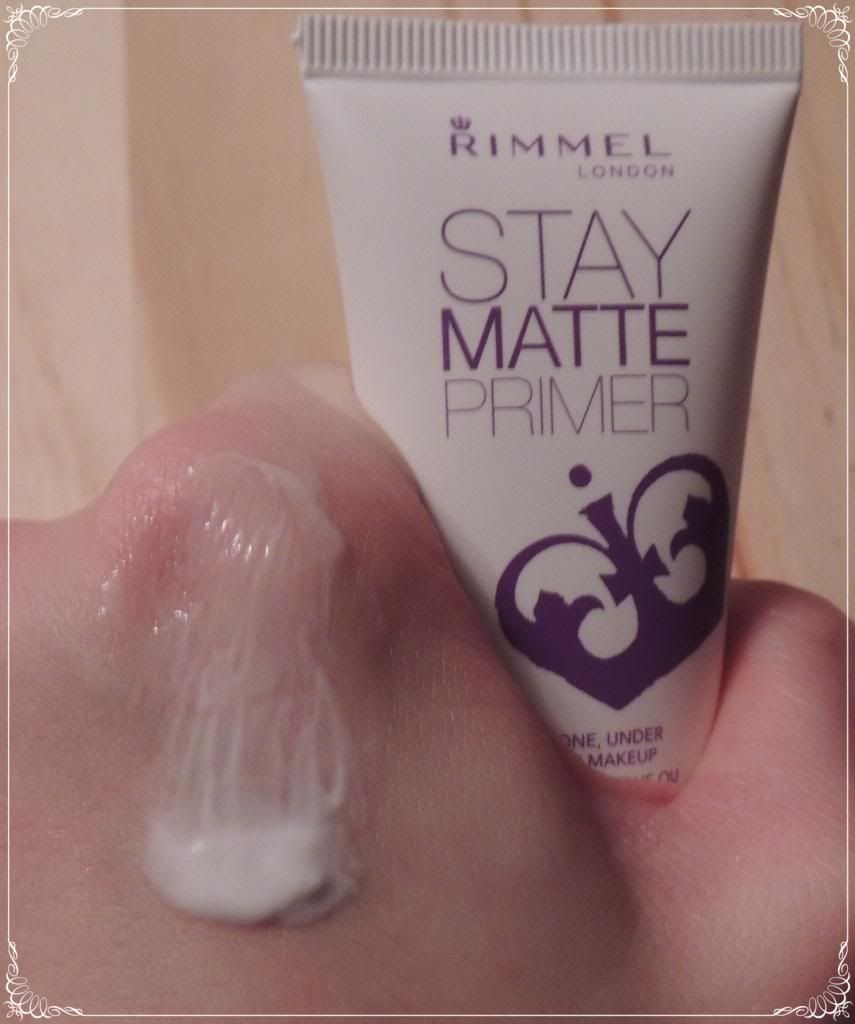 Rimmel - Stay Matte Primer.
I have oily skin, so I am always on the look out for anything that will keep my skin mattified. I saw this and thought it was worth picking up as the cost was low.
Not really sure how this will hold up; who knows it could amaze me and change my mind about lower priced primers?
The texture is a gel/cream, a combination of the two in my experience with primers. Feels rather wet for a mattifying primer, the colour is white from the tube and blends to transparent on the skin. No scent to it, which is always a bonus. Fingers crossed this product will not make me break out.
Rouge Bunny Rouge - Lip Potion.
(I bought the shade - Devilish Nectar)
This is my second tube of this amazing lip potion. It's become my secret weapon for plump, voluminous lips.
I have a normal lower lip but the tiniest top lip, it seems to disappear every time I smile. This is incredible for making it appear I have a fuller, more plump top lip. If this sounds like something you want or need, I have a full review:
HERE
for you to check out the product in full detail.
Lancome - Hypnose Mascara.
(I bought the shade - Black)
My favourite mascara. I have repurchased this countless times over the year's. I have my own and I also have this in my kit. The formula doesn't dry out too fast, it's buildable without clumping and creates many looks with how many layers you apply; from natural to dramatic.
Collection - Lasting Perfection Foundation.
(I bought the shade - Porcelain)
Again this was a purchase because I had heard good things about it. So far it seems easily blendable, matte, has great staying power and the shades almost adapt personally to your skin tone. I really like this swatched, I'm hoping that this is the same after a few hours of wear on my face.
I hope you enjoyed 'beauty buys', if you would like to see more of this type of blog post comment below and I will keep you updated with purchases I make!